At the Google I/O developers conference, the search giant has today announced that artificial intelligence and computer vision are becoming of prominence in the current world. And this has incited them to integrate the two technologies right into the camera, as well as the Google Assistant app through a new technology called Google Lens.
It was mentioned on stage by CEO Sundar Pichai that we're currently on the inflication point in terms of image technology, which I might add is absolutely true. Facebook also laid immense emphasis on the same, turning our smartphone cameras into robust tools for augmented our reality. But instead of augmenting stickers or cartoons into the real world, Google has decided to bring its search capabilities right into the camera.
With Google Lens, your smartphone camera won't just see what you see, but will also understand what you see to help you take action. #io17 pic.twitter.com/viOmWFjqk1

— Google (@Google) May 17, 2017
During the feature's demo on stage at Google I/O 2017, you will simply be able to point your smartphone camera to objects in the real world and recognize what they actually are. For example, if you call upon the company's uber smart Google Assistant voice AI and point the same towards a bouquet hen what kind of flowers are being shown on screen will be identified in an instant.
In the image attached below, Google has demoed that one will even be able to connect to any Wi-Fi network simply by scanning the credentials sticker instead of typing them in. The Google Assistant will detect the contents in the photograph of the sticker and then prompt you with an option to check the credentials. Just tap the connect button if those credentials seem a-okay and you're done.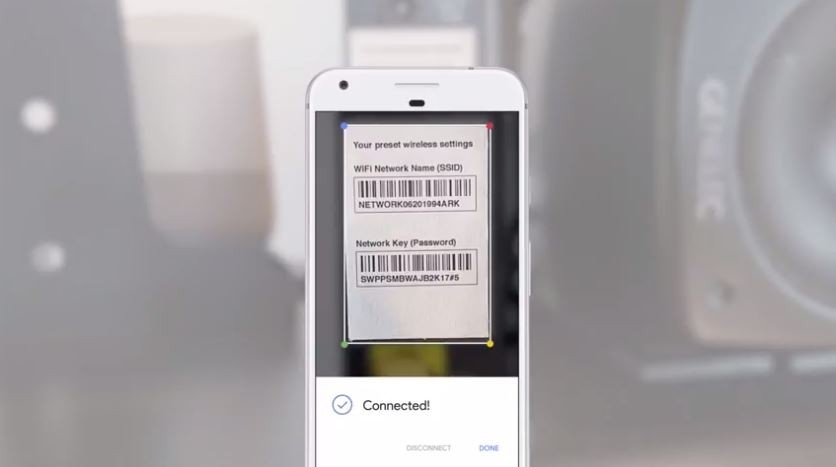 But the most significant of all would have to the ability to scan the image of any cafe or restaurant while walking down the street. It works in a similar manner as mentioned above. Just whip out your smartphone, point it to any storefront and you'll be able to learn more about the said business in an instant.
The Google Assistant will soon be updated and you'll be provided with a 'Google Lens' button to activate the feature on your phone. The said feature is also being integrated into both Google Home and Google Photos as well. These showcase how the search giant's AI and ML technologies are tapping into the robust knowledge graph to surface more info about the images being scanned. You will even be able to scan text and translate the same into a desired language.
Google Lens is said to be arriving "very soon" and this seems like a noticeable addition to Google Assistant.