The Mountain View giant may have been late to the consumer messaging game with Allo, but in true Google fashion, it is employing algorithms to enhance the user experience. And the same is now being done with the help of two features, selfies and emojis, that are becoming a significant add-on to conversations in today's world.
Now, Google has decided to amalgamate the two to build custom cartoon-ish selfie stickers for your use in Allo. The application of this feature is not similar to Snapchat's Bitmoji, as you may have thought. Instead, a mix of computer vision and neural networks is being employed to capture your facial features to turn your selfie into a personalized sticker pack. And you need not worry, if the output of the selfie isn't desired then you also have the option to customize it.
On how to use this feature, the official research blog writes,
Simply snap a selfie, and it'll return an automatically generated illustrated version of you, on the fly, with customization options to help you personalize the stickers even further.
As for the customizations, it has further been mentioned that you and the project can have artistic differences in perception and be subjective. The initial style of selfie stickers, which assist you in the creation of cartoon doppelgängers, have been designed by artist Lamar Abrams. But, there's always need for tweaking that one feature you feel should be different in the avatar to make it exactly look like you.
Thus, Google Allo will have the option to choose from 'different hairstyles, skin tones, and nose shapes' — which are all every essential. The algorithms can unconsciously also create pools defined by race, culture, and class, that's being addressed by Google Allo in the customizations itself. But, it is still striving to better the research results by training the neural networks with help from you.
It's not enough to make an avatar that is a literal representation of yourself when there are many versions of you. To address that, the Allo team is working with a range of artistic voices to help others extend their own voice.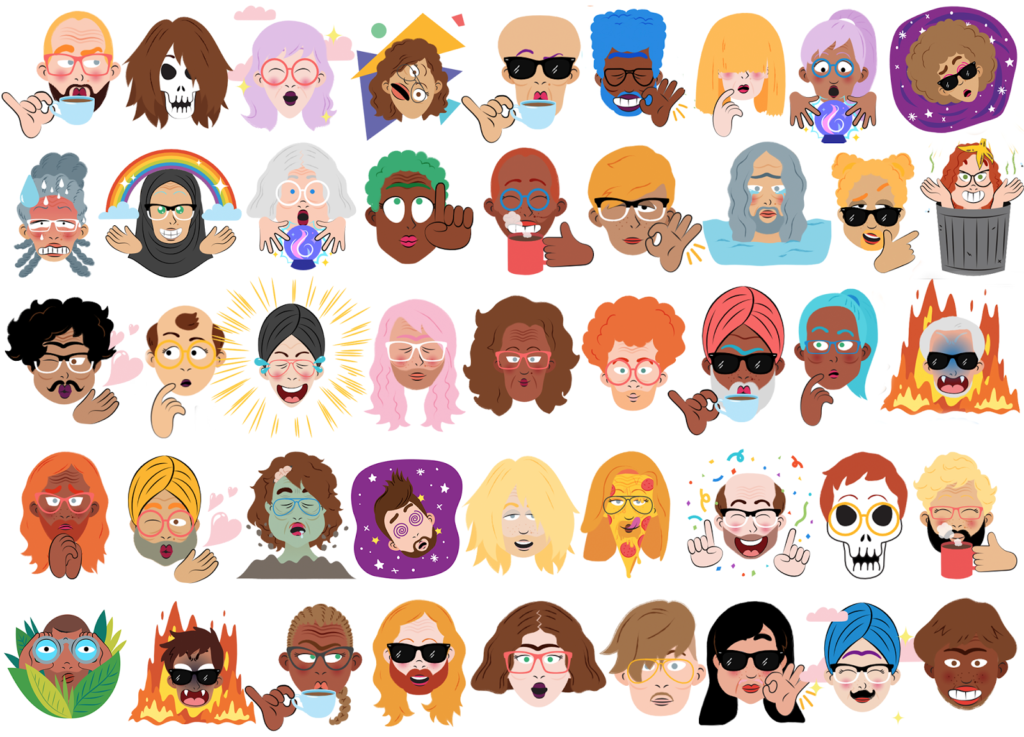 In the official research blog post, Jennifer Daniel, Expressions Creative Director, Allo mentions that the tech giant has collaborated with several leading artists to build an ultra-massive collection of illustrations for its sticker packs. There are close to 563 quadrillion different combinations of sticker images which can be produced with the selfies you click in the Allo app.
This is all being done by an unnamed software, which is powered by Google's robust computer vision and neural network tech, says Daniel in the blog post. She further adds that computers can easily familiarize themselves to the human self but they're not as highly trained for judging an image. It makes it difficult for the software to eliminate the possibility of a change in eye colors due to certain lighting conditions (this is just one example), thus a team of human raters was brought in to help the neural network aware of their preferences.
We discovered that a few neurons among the millions in these networks were good at focusing on things they weren't explicitly trained to look at that seemed useful for creating personalized stickers.
In addition, the blog mentions that the researchers are dealing with the well-known issue of uncanny valley – a concept which makes an individual feel repulsive towards its almost lookalike replica – simply by using stickers instead of caricatures. This means you'll be aware of the fact that your selfies will be converted into fun emojis/stickers for sharing in Allo chats. Daniel talks about this problem in the blog post as under:
Rather than aim to replicate a person's appearance exactly, pursuing a lower resolution model, like emojis and stickers, allows the team to explore expressive representation by returning an image that is less about reproducing reality and more about breaking the rules of representation.
An announced, Google has already started rolling out an updated, neural network-powered Allo app to Android users. The iOS users will have to wait a while to convert their selfies into fun and quirky stickers. Now, go and convert your face into these stickers to spice up your conversations.