Microsoft has kicked off Day One of its Build 2017 developer conference in Seattle this morning with a scintillating announcement that Windows 10 operating system is now running on 500 million active devices. Yes, the operating system, which is delivered as a service to every consumer, is powering half a billion PCs/laptops/tablets or even mobiles.
This figure was announced on stage by Microsoft CEO Satya Nadella, who cleverly stated that the developers now have 500 million devices to deliver their experience to. The Redmond giant had released the growth numbers for Windows 10 towards the end of last year when it was running on over 400 million active devices.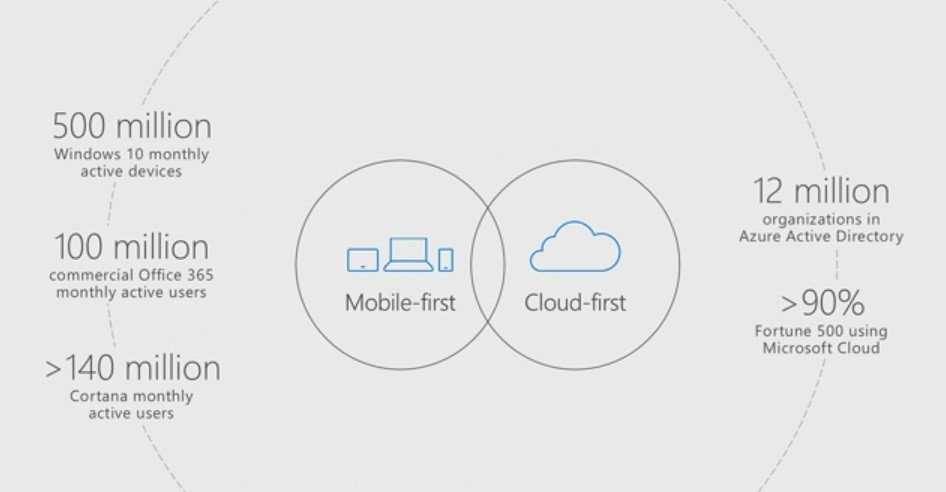 In addition, MSPoweruser states that the company recently also said that the operating system was being used by 300 million users every day for about 3.5 hours. This is a significant growth for the company and helps it take another step closer to achieving its 1 billion active devices goal by the end of fiscal year 2018.
But, it has also been suggested that Microsoft may not be able to reach its goal and the company itself has extended its goal. But the analysts can be proven wrong if Windows 10's bi-annual updates and features attract more users to the operating system.
In addition to Windows 10, Microsoft has shared numbers for the number of users employing the services of Microsoft's cloud and productivity suites. In the image attached above, it can be witnessed that Office 365 suite has now peaked over 100 million monthly active users, while Cortana voice assistant is being used by 140 million of the total 500 million users. And these are numbers smaller than Microsoft would actually like to see, thus the smart speaker/HomeHub route.
Since Windows 10 was first debuted back in 2015, reaching 500 million active devices nearly two after launch simply suggests that growth has slowed down over the years. But the total number of devices running Windows 10 is still quite significant, courtesy of Microsoft's hardware partners. OEM's like HP, Lenovo, and Acer are constantly building laptops, ultrabooks, and 2-in-1 hybrids to expedite the growth of the platform.