The rampant success of Snapchat's face masks and Instagram or Prisma photo filters over the previous year has now also incited Apple to finally join this millennial trend. The Cupertino giant has today taken the wraps off its own video editing app Clips, which allows you to create expressive and filtered photos or video clips for sharing across your favorite social network. It is currently in preview and will arrive on the App Store next month.
The Clips application is completely separate from the default camera app and has been created in-house by Apple engineers. Its release has been long-rumored for quite some time now. We had earlier reported that the Cupertino giant was working on a video-focused app similar to Snapchat. And now we have it amongst us, but it holds significant differences as compared to these social networks.
First look at the application makes it pretty self-evident that Clips has borrowed features (or inspiration!?) from popular platforms like Snapchat, Instagram, iMovie, and Prisma's art-focused photo filtering app. Following closely in line with current trends, Clips enables you to create mini videos; add text, filters or emojis to it; and stitch them together to create a quirky and fun experience.
And then, the catch in the working arrives — you don't have a dedicated social network for Clips. You can share edited videos or photos across all the social platforms, namely Facebook, Twitter, Snapchat, and others. This appears to be a sound decision on the Cupertino giant's part as they are not looking to clutter and compete with already existing social players by releasing their own platform. They are only looking to provide a user-friendly accessory to further enhance the photo or video editing and sharing experience.
Commenting on the release, Susan Prescott, Apple's vice president of Apps Product Marketing said,
Clips gives iPhone and iPad users a new way to express themselves through video, and it's incredibly easy to use. The effects, filters and amazing new Live Titles we've designed for Clips let anyone make great-looking, easily sharable videos with just a few taps.
Clips can further be seen as Apple's first step towards building a robust and intuitive video editing app for its mobile operating system. The Cupertino giant already has iMovie for beginners and Final Cut Pro for advanced creators but is now looking to provide a similar but enhanced experience to millennial mobile users as well. There are no pre-requisites to using Clips and can be used by anyone who is looking to make their video clips more interactive and fun.
Now coming to the Clips application itself, it has an interface which is quite reminiscent of Instagram. The top bar of the interface has four options for stylizing the videos — Live Titles, Filters, Overlays, and Posters. The bottom holds the elongated and rounded 'Hold to Record' button along with a timeline, which allows you to stitch together videos or pick photos from a recorded Clip. It enables you to record 30-minute clips for each individual scene, with one-hour max length for an entire one.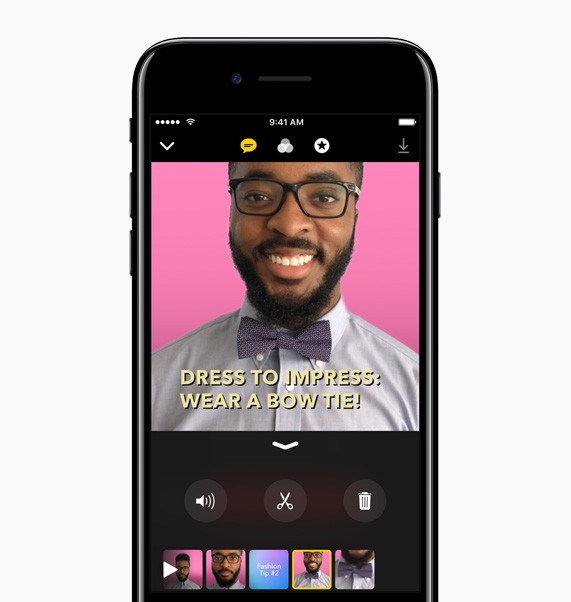 While you'd be acquainted with most of the editing features or tools Apple has culminated with this application, but Live Titles is most likely the highlight feature of this app. This is a pretty interesting addition and hasn't been implemented by any other social media app till date. Live Titles allows you to add text over still images or videos using your voice. Yes, you heard me right! Clips allows you to select this option, choose a style and overlay text on the clip by recording your voice. The app then translates the voice to text and shows it as rolling text over videos. And what's impressive, it can be done in 36 different languages.
Also worth mentioning is another significant feature called Soundtrack, which makes dozens of musical tracks accessible right within the Clips app. You can use these tracks to further the experience of your creation or it even allows you to pull in tracks from your Apple Music (or iTunes) library. Each pre-recorded audio clip has been designed to be looped, so it will adjust itself according to your video. Apple was able to bring along a fresh tune from Hans Zimmer himself.
There is currently no information on the exact launch date, but Clips will be available for free across all iPhones and iPads in April.