Being the hottest technology IPO of the decade, Snap Inc witnessed massive initial traction from investors. The stock prices rode the high wave and touched around $29 in its first couple days of trading, but the seams had begun to crack. It tumbled massively – only to slip under $20 – but the stock seems to be on the rise again, thanks to the interest brewed by its first "buy" analyst rating.
The Wall Street analysts have been rushing to assign only a sell or hold rating to Snap's stock, while also counting it amongst the worst companies over a $20 billion valuation. Investors started growing wary of its lack of profits, voting rights and bloated valuation. Thus, it was being clubbed with Twitter (a massive turn down) as compared to Facebook (a decent shining star) in the stock market.
Monness Crespi Hardt has piqued everyone's interest by assigning the first "buy" call to the parent company of ephemeral messaging app Snapchat. Their analyst James Cakmak expects the stock to beat market expectations by 10 percent or more in the coming six to twelve months. He has assigned a target price of $25 per share for Snap. Further, Cakmak continues to add,
We recognize we are potentially giving too much credit for unproven skills in building a business, rather than just a product, but we see more to Snap than many suggest. We see a company with the potential to outpace revenue growth of peers by 7x, along with a steep margin trajectory, while peer margins have likely peaked.
In his report, Cakmak further continues to justify his point of view for assigning Snap a buy rating. He says that there has been little or no innovation in the camera industry for ages. We've been using the same body, lenses, technology and formats, but Snap has tried to break the mold with the introduction of its first hardware product — Spectacles. This portrayed the company's move from being just a millennial-loved messaging service into the camera space. And the analyst believes that Snap could continue to drive this innovation – like the circular video format – through hardware as well as software.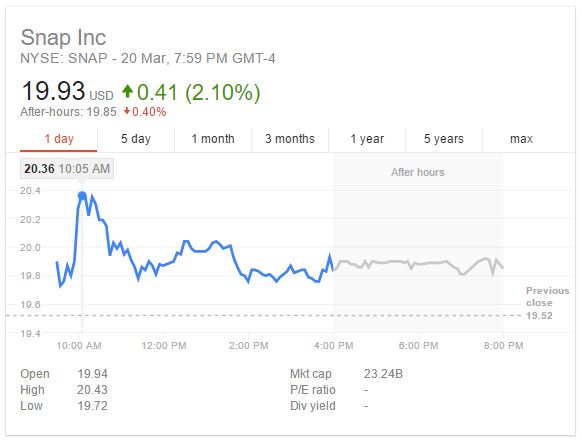 Snap shares have since risen more than 4 percent but settled around 2 percent. The stock price peaked over the $20 mark for a couple hours during the day. It is currently trading in the ballpark of $20, which is particularly close to the initial offer price of $17. The after-hour stock pricing suggests a flatline opening for its stock the next day, but we still have some hope as Cakmak believes that the social media giant would achieve this figure in the next 6 to 12 months.
Source: Reuters