Snap stock has slipped below $20 for the first time since its IPO almost two weeks ago. The company, which started trading at $17 and quickly jumped up to $29 within a couple of days, has dropped down to below $20 for the first time ever. This does put a kind of a wall before folks who were hoping that Snap would emulate Facebook in the path its stock would chart.
Meanwhile, Snap stock is charting a pretty unpredictable path. What happens is this: the stock sinks slightly and investors jump at what they see is an opportunity. However, things are  calming down now. Snap stock is now settling down near the IPO prices of somewhere in the neighborhood of $17.
The stock is kind of a paradox. See, the company isn't profitable yet and even its growth rate has slowed down by a significant amount. What's more, the stock does not confer voting rights upon investors meaning that they will not have any clout regarding the path Snap takes. It is kind of like sitting in the back of a plane and hope that it reaches its destination.
Meanwhile, check out the path the stock has taken right below. Notice the ups and down and the general motion towards the $17 opening price. The stock was down over 4 percent to $19.89 in the afternoon trade.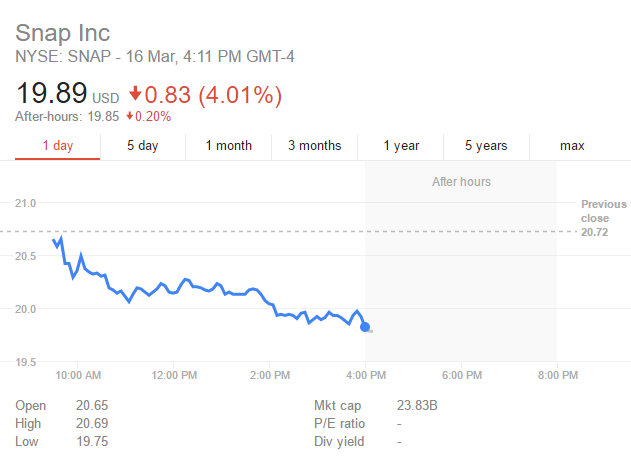 As per Reuters, six analysts have recommended selling Snap stock, while three have neutral ratings. None of the analysts have recommended buying.