Google Home app will now offer a dedicated space for your favourite playlists gathered from a number of music streaming services across your smartphone. Thanks to the latest update of the app, both iOS and Android users can benefit from the new feature which adds a 'Listen Tab' on the Home page itself. The Listen tab is capable of playing the sorted music content directly on your TV or any other cast device.
Google announced this feature via a blog post stating,
All told there are more than 40 million songs available, on 200+ cast-compatible music and audio apps, to listen to on your favorite speakers.That's a lot of music to choose from, so today we're making it easier for you to find the perfect playlist, album or artist to listen to with the new Listen tab in the Google Home app.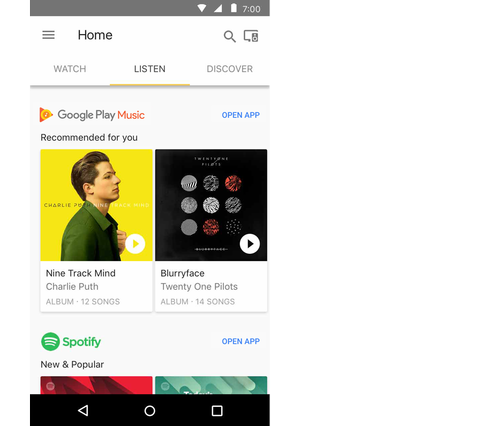 The tab is placed right between the 'Watch' and 'Discover' tabs to divert user focus on music streaming. Apart from Google Music, the section supports a variety of apps like Spotify and other compatible audio apps already installed on the device. It also suggests music apps available for download in a separate discover section.
The Google home app is available for free download on Google Play store for Android users while on the App store for the iOS users. Apart from the latest music tab, Google is currently working on multi-user profile support for Google Home device. This means the tech giant is looking to soon provide you with an option to add multiple accounts from the Google Home app. The company is also planning to integrate differential voice recognition— currently one of the biggest feature limitations of such smart speakers.
The Listen Tab not only eases user concerns by providing all of their music data at a single destination but further market compatible apps in the Discover arena. So, whether you are looking for an upbeat playlist or something to unwind, Google Home's app assists you with perfect entertainment to stream to your TV or speakers.