Did you miss out on an awesome Facebook video midway due to an important call? Well, the social media giant is currently testing a new 'continue watching' feature, which reminds you to watch videos you earlier couldn't finish till the very end. This new test feature falls in line with the company's focus on increased video consumption on the platform.
The said feature was first spotted by Kurt Wagner at Recode, who reports that Facebook now prompts you to re-watch videos that you had started watching but couldn't complete. These videos appear under the 'continue watching' heading at the top of your News Feed, but only on the web platform. This means you're no longer required to either sift through your complete News Feed to find that video you skipped midway.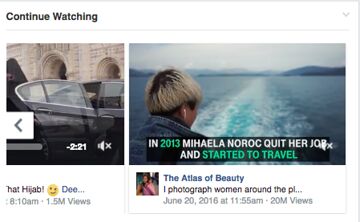 A Facebook spokesperson has confirmed that the said feature is currently under testing and is in "early stages" of development. There is no word on how far-reaching is the test, handful of users or some geographical location. And there's always the possibility that a test feature would die in the testing process and never make an official debut for its nearly 2 billion users.
Since the said test feature is restricted to the web platform, the responsibility of surfacing fresh content on mobile platforms has been shouldered by another beta test feature called 'Explore'. This adds another tab to the bottom of the Facebook app, which allows you to access relevant information based on your interests, page likes and content you've already consumed on the social platform. Also, it's continuously making changes to how it pushes the envelope on video content to reach a wider audience.
Also, Facebook is now trying to expedite its video efforts by pushing beyond the browser and mobile devices. Recently, it has not only developed but also pushed an official Facebook Video app to connected TVs from Samsung, Apple, and Amazon in a mere two weeks.
There is no doubt that the social media giant has been doubling down on its video efforts to not only propel the view count but search for new avenues for ad revenue as well. It is said to have started testing mid-video advertisement breaks, with a 55-45 revenue sharing scheme. The creators can currently experiment with multiple ad breaks, which should be at least 2 minutes apart. Thus, Facebook is steadily making the video capabilities of its platform more appealing to content producers.