Your insistent complaints against the removal of the original text-based statuses from WhatsApp seem to have bore fruit. In the latest beta update (version #2.17.95) on Android, WhatsApp has brought back the status feature back from the dead. This is currently under testing and is expected to make a return to the official application very soon.
Ever since the launch of Snapchat-like ephemeral 'Status' feature last month, WhatsApp had been receiving a lot of flak from most of the billion-plus users on the platform. This Status feature provided the users with the capability of posting images/videos – added with emoji, stickers, and sketches for a limited duration of 24 hours. But, it essentially stripped them off the old text-based feature that we had come to love.
Now, WhatsApp itself seems to be regretting the removal of the old status feature from its messaging client. Thus, it is bringing back 'nostalgia' (a strategy made popular by Pokemon Go last year) but not in the same clothing. As the ephemeral feature has been named Status, thus calling the permanent text-based update also a status would have been redundant. Thus, it's now being referred to as your profile's 'About' section.
Now, the process of updating the About section has also been modified. The About isn't getting its own real-estate in the menu that is accessible through the three dots on the top right. Instead, navigate to WhatsApp settings and you'll notice that the text-based status is now appearing under your username. Tap on the same and you'll be taken to your profile, where you can update the same with one of your choice or from the default ones. And viewing other user's status remains the same. You just navigate to their profile from the chat window.
In addition, WhatsApp is also making some minor but significant changes to the chat interface of the app as well. The messaging giant is now making the process of placing audio and video calls a tad bit simpler. It has now separated the two buttons and placed it at the top right next to the profile in the chat window. You now have a dedicated video call button, so now you won't need two taps to access any one of the calling features.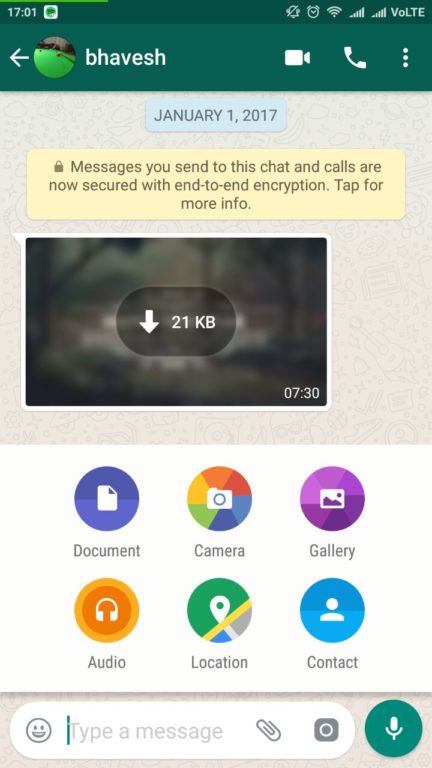 Also, another nifty button swap has been done with the attachments icon. It no longer resides in the top profile bar (its place has been taken by the video call button). Instead, it has been moved to an understandable location — within the text box, next to its camera icon and on the opposite of the emoji/GIF selector. You can now access a similar menu, with document, location, contact and others, from the message box at the bottom itself. A minor change is seen in the message box, which is now more rounded and minimal.
These features are currently only available in the Android (as well as Windows) beta for WhatsApp. So, update your app to the latest version and rehash your memories of the status (oh, I mean the About section!)