Amazon Web Services (AWS) launched itself into the competitive ecosystem of communication and meetings space with the release of Amazon Chime just this past month. Launched with the bare minimum, the company is now planning to one-up the rivals by making its communication tool more productive for enterprise professionals.
In an attempt to do so, Amazon is said to have quietly acquired Do.com — a startup specializing at the very task of making a meeting more productive by providing the team with necessary tools. While the acquisition happened back in February (just a couple days post Chime's debut), but it is only surfacing this late as Do.com had kept the name of its buyer under covers — most probably at Amazon's instructions. In the official blog post dated February 15, Do had stated,
We're proud to announce today that Do.com has been acquired. While we would like to share more, we will be providing more information about our upcoming plans and disclosing our new parent company in future updates alongside other updates relevant for our customers.
Further, Do.com had also added that it will now start work on integrating its services into the buyer's product, which we now know is Amazon. The startup had also added that its services will become inaccessible across all platforms – mobile, web and Apple Watch – on February 24. This means all existing user data for close to 6 million people who participated in Do.com meetings from over 500,000 companies to date has been deleted.
But, how did we finally come to know Amazon has acquired Do.com and it is potentially working to make Amazon Chime more productive?
Well, this development was first spotted by TechCrunch, who itself was tipped off about the said change through one of its readers. The reader intimated the publication that Do's LinkedIn profile had been updated and now carried a note reading: "Now a part of Amazon Chime." A little more digging into the profile's of its employees confirmed the said acquisition as they carried the same note. Currently, there is no more information — financial details, teams, products — available about Do's acquisition.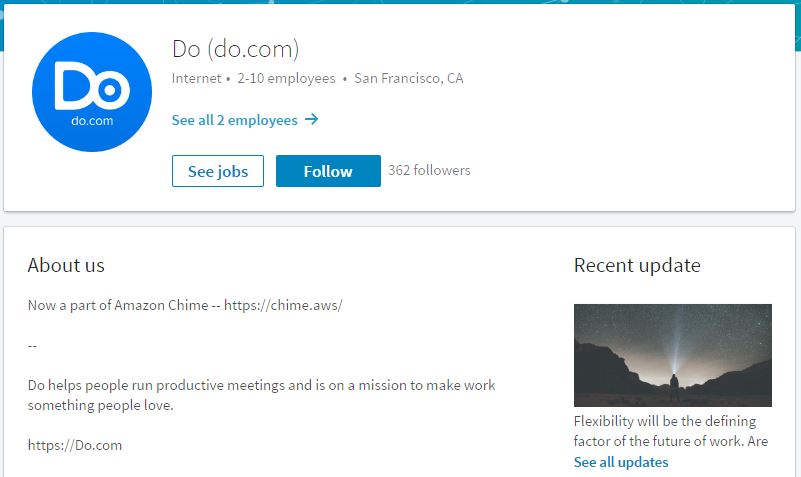 Headquartered in San Francisco, Do.com was founded by Jason Shah towards the end of 2013. It was launched with the primary aim of helping enterprises (or businesses) make their meetings more productive — the highlight of this discussion. And they enabled users to do so through their platform which integrated a host of known third-party tools to make the task easier. It had also raised about $2.4 million from a collection of marquee investors including Salesforce, Sherpa Capital, and Mark Pincus among others.
You could start by penning down notes for an upcoming meeting, prepare presentations or docs for the same and creating reports for colleagues who were unable to attend a meeting. It collected these resources all in one place, including the task of meetings as well. It just wanted to eliminate the need for sending emails back and forth.
Do.com will now do the said task by integrating (most likely) its tools in Amazon Chime, which is looking to compete with the likes of Skype, Slack, GoToMeetings or any other communication tool out there. We've contacted both Amazon as well as Do and will update you once we hear back from them.