'A long time ago in a galaxy far far away'; the phrase seems very Star Wars-y, right? Well Google seems to believe just that. The web giant has always been one for celebrating awesome events and milestones via easter eggs and this time, the folks at Google are celebrating the return of the American epic space movie, Star Wars in the form of The Force Awakens. 
Type in the aforementioned phrase as a Google search query and see the magic. You'll be greeted with the phrase displayed as rolling yellow-on-black text in deep space, mimicking the classic intro to every Star Wars movie. That's not all, you can even get a taste of John Williams' infamous score by simply pressing the sound button.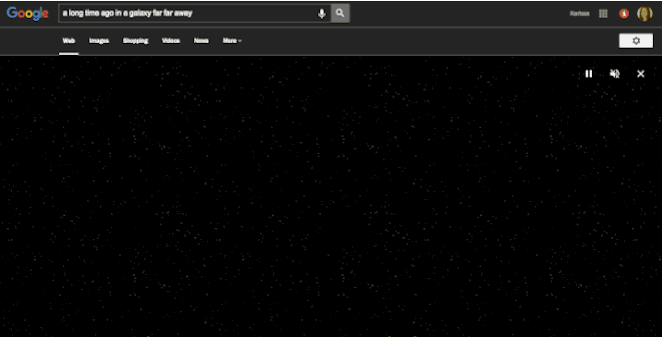 Isn't that just awesome?
Well, it might be hard to click on any of the search results, but we do not think there will be many complaints when it comes to that. People can just admire the beautiful intro of Star Wars on their browser window while listening to the movie's background score and sipping their morning coffee. It will make anyone's day magical.
Google isn't the only brand that has celebrated the sequel of Star Wars. The movie is due for release in a few weeks time and fans are all high on anticipation about this sequel which is most certainly going to rock the film industry.
---