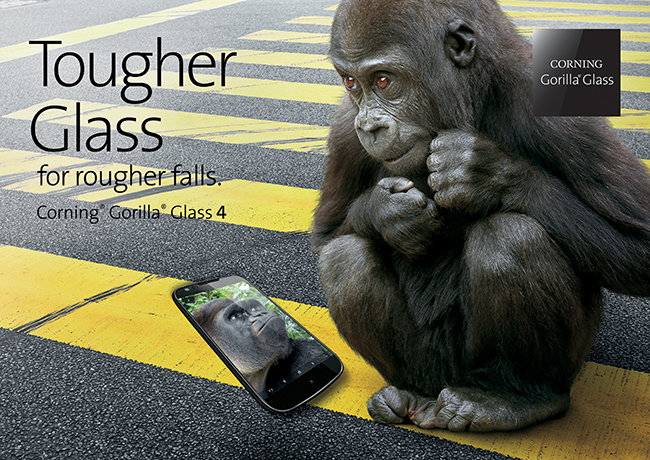 We've all heard how Sapphire is "the" material when it comes to manufacturing scratch-proof and damage-proof glasses at the same time. Though Sapphire does possess those qualities, it is expensive, and hence not as affordable as one would want it to be. Well, Corning's "Project Phire" may bridge that gap for us. 
Introduced yesterday by Gorilla Glass manufacturer Corning, Project Phire is a special category of glass which is as tough and resistant as company's latest Gorilla Glass 4, and at the same time, "approaches" the scratch resistance of Sapphire. "Approaches" being the word there.
James Clappin, President at Corning, announced Project Phire at a New York investor meeting and said,
We told you last year that sapphire was great for scratch performance but didn't fare well when dropped. So, we created a product that offers the same superior damage resistance and drop performance of Gorilla Glass 4 with scratch resistance that approaches sapphire.
Corning has been pretty vocal about its concerns related to Sapphire Glass display. It has been arguing for quite some time that though Sapphire may provide scratch-resistance, it continues to fail in numerous drop tests which the company conducted earlier.
Corning, which makes most of its revenue through Glass manufacturing for TVs and other larger displays, has rapidly become a dominant force in smartphone glass market too. Its Gorilla series of glass now fronts all of Apple's iPhone models, along with Samsung's Flagship phones of the Galaxy series. Other major vendors have also started using Gorilla glass, for its proven toughness as compared to other, cheaper alternatives.
However, things started to dwindle a bit for the glass maker, when Apple started investing millions into GT Advanced, for more manufacturing a near-perfect scratch-proof glass, made out of Sapphire. Though GT Advanced had to ultimately file for bankruptcy, the entire incident still exposed how Gorilla Glass was pretty much easy to scratch even though it was solid enough.
As a result, Corning started working on Project Phire, later to be unveiled at an investor meet in NewYork. The company hsan't revealed as to which all vendirs have approached it for the same, but considering the affordability and near-perfect nature of Corning's latest glass, don't be too surprised if you find Project Phire on the next line of flagships from major vendors.
---