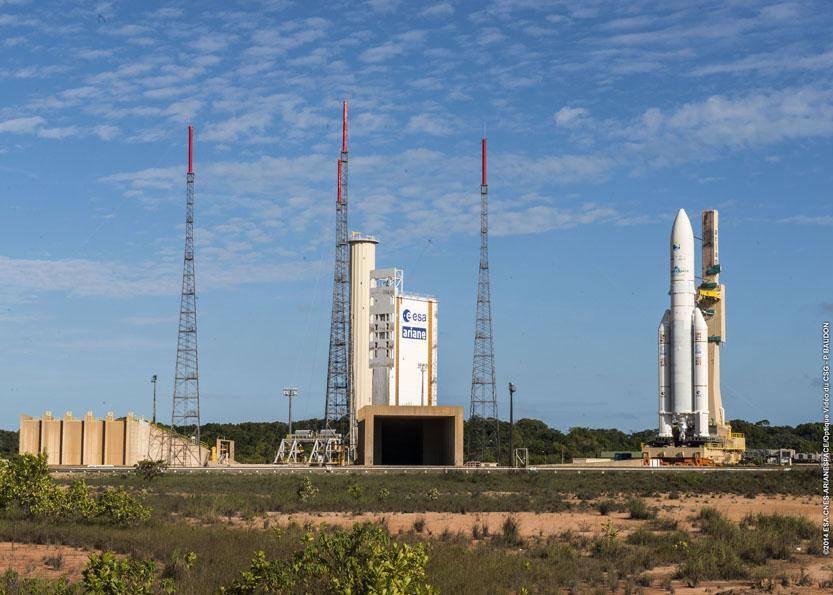 India's satellite-based communication system received a major upgrade when ISRO's GSAT-16 communications satellite was successfully put into orbit by the Ariane-5 launch vehicle VA221 of Arianespace from Kourou, French Guiana.
Ariane-5 precisely placed GSAT-16 into the intended Geosynchronous Transfer Orbit (GTO), after a flight of 32 minutes and 20.4 Seconds duration.
The satellite which provided a much needed up-gradation to India's existing communications satellite networks. The GSAT 16 will be replacing the expired INSAT 3E who service period ended in April this year.
ISRO's Master Control Facility (MCF) at Hassan in Karnataka started acquiring the signal from the satellite at 0241 hrs IST and the commanding of the satellite was initiated. Initial checks have indicated normal health of the satellite.
The present orbit of the satellite will be raised to Geostationary Orbit of about 36,000 km altitude through three orbit raising manoeuvres by the firing of GSAT-16's Liquid Apogee Motor (LAM) Engine. Preparations are underway for the first firing, planned in the early hours of December 8, 2014. The satellite will be placed in the Geostationary Orbit by December 12, 2014 and subsequently the satellite's communication transponders will be switched on for in-orbit testing.
ISRO's last launch of a communications satelliyte was in January this year, when it launched the GSAT 14 communications satellite. GSAT 14 was launched to replace the GSAT-3 satellite; launched by a GSLV Mk.II, which incorporated an Indian-built cryogenic engine on the third stage.
---