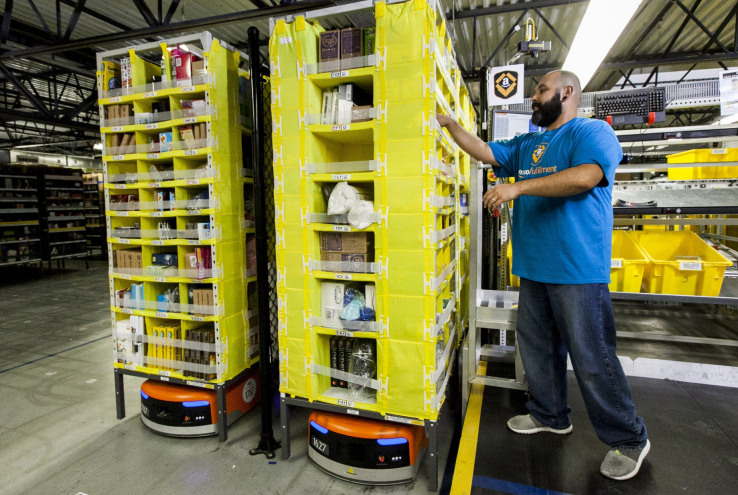 Yes, Amazon's Prime Air drone delivery service is still quite a distance away in future. But there's something for now, which according to me, is way more cooler than drones or anything airborne.
In order to tackle the mad rush which generally happens on a Cyber monday sales day, Amazon has deployed an army of 15,000, small, orange robots over 10 of its warehouses across the United States. They have been placed so that your order is processed fast enough and the whole process is efficient.
This army of small, "Wall-E base station alike" robots has been designed by Kiva Robotics, the same company which Amazon bought for $775 Million in 2012. This is a fine example of how corporate giants are efficiently using their acquired start-ups, and putting them to some serious use.
Dave Clark, Amazon's senior vice president for worldwide operation and customer service told USA Today,
The Kiva drive units are about a foot tall and weigh about 350 pounds. They can lift 700 pounds.

This dramatically increases what's available locally, because we can get so much more inventory into one space
These Kiva robots hide themselves beneath the warehouse shelves to speedily process orders during the rush hour, as shown by Amazon in its demonstration video. And they aren't the only robotics inside Amazon's hi-tech warehouses.
They are accompanied by various other robotic innovations, which Amazon has brought in to its fulfilment centres. That includes a giant robotic arm, called Robo-Stow, which shifts orders and various other inventory systems to bring down time take to process an order.
Apart from robotics, Amazon is also investing huge in manpower. It plans to hire over 80,000 short term employees, to tackle the holiday season sales.
---