Quite possibly, one of the most developer-friendly and the most developer-loved brand, Firefox has turned 10 today, and celebrating that occasion, Mozilla has just announced a couple of cool new projects. One of them being, the Firefox Developer edition.
Taking a first look at the browser, I would definitely agree with Mozilla on one point, i.e. Built for those, who build the web. It is, indeed, the most developer friendly browser you would ever come across, even surpassing the Chromium project on that front (personal opinion). Though, if you are expecting to see an all new browser, with a different theme and design, well, you will be disappointed.
The new Developer edition has nothing new to it in terms of design. It's the very same Firefox, albeit, with a darker (in fact, much darker) theme and squared tabs (instead of the rounded edges one on the original browser). But on developer front, it has way lot more to offer.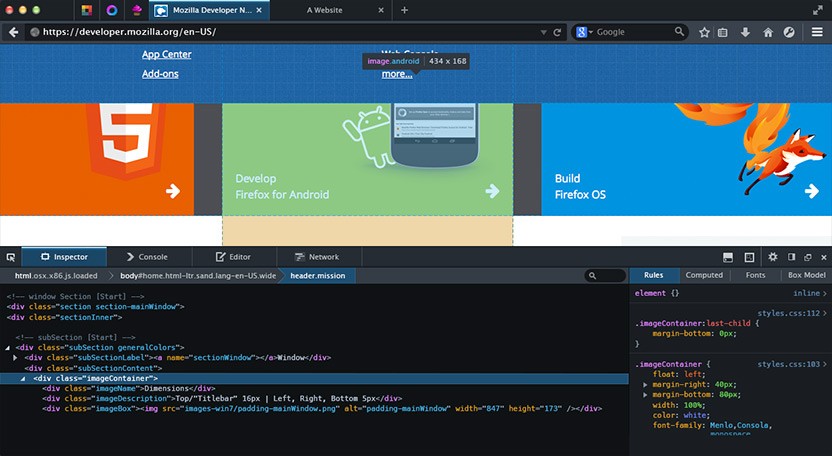 The new developer edition consists of all of Mozilla's developer tools, which were earlier available as add-ons to the Firefox browser. Moreover, it also comes, in-built, with the Firefox Tools Adapter (re-named Valence) for debugging in Chrome on Android and Safari on iOS. It also has the WebIDE, which helps you in building web apps for the browser.
If you are design enthusiast or a CSS maniac,you can target screen sizes with the Responsive Design View and tweak your CSS on the fly with the built-in Style Editor for pixel-perfect coding.
All in all, Firefox Developer Edition brings your core dev tools together with some powerful new ones that will extend your ability to work across multiple platforms from one place. It's everything you're used to, only better. And only from Firefox.
Should you give it a try ? Well, if you are a developer, then you definitely will. If you are new to developer scenario, and want to have a look as to what a developer edition browser looks like, then  Yes, you should definitely give it a go.
The best part about installing Firefox developer edition is that this installation runs parallel to your existing Firefox installation. When you install this developer edition, your current installation will remain untouched.
---