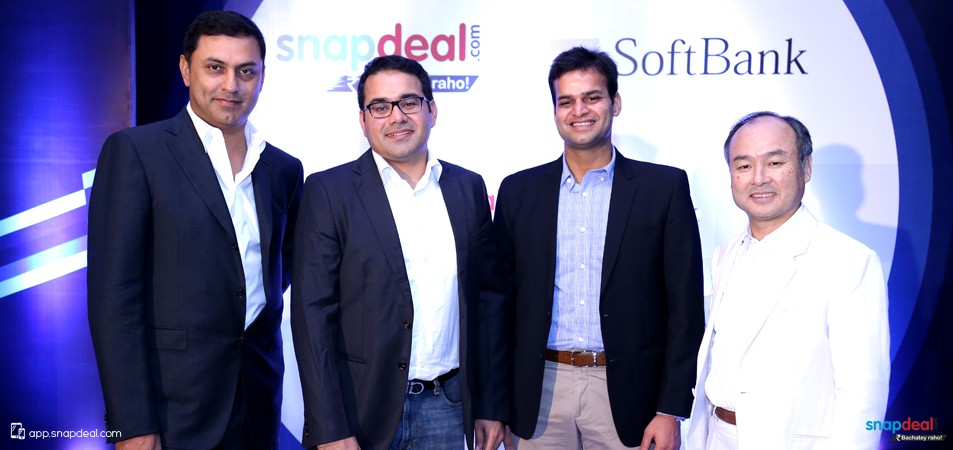 One of India's fastest growing e-commerce marketplace, Snapdeal, has reportedly raised a staggering $627 Million from Japan's Softbank. This has taken the total funding for Snapdeal to over $1 Billion.
This is yet another big push to India's e-commerce market, which recently saw huge investments in Flipkart ($1 Billion) and Amazon India ($2 Billion). Apart from this, SoftBank has also invested in Ola Cabs, an online radio taxi service. The amount invested is reportedly pegged at $210 Million.
Snapdeal CEO and co-founder Kunal Bahl said in an interview,
We had a lot of demand from investors. We were very clear that SoftBank was the partner that we wanted. We wanted a partner with a long horizon and SB demonstrated that with Alibaba, which went public 16 years after they invested. This was a real meeting of the minds and a deep philosophical investment.
Kunal Bahl's mentioning of AliBaba has sparked yet another speculation, that the Chinese e-commerce giant, which recently went public in one of the biggest IPOs ever, is also planning to take a stake in Snapdeal. This could be possibly be a move, to make in-roads into the world's fastest growing e-commerce market.
Although Bahl did not speak anything on that matter, but he did heap on praises, on Alibaba, hinting that the speculation may just be true. Bahl said,
Snapdeal's business model and traction and philosophy are similar to what Alibaba has been able to achieve in China. Small businesses need to be aggregated on a platform and selling nationally to consumers. We've been focused on democratising retail in India both for small businesses and consumers.
As for the valuation, Snapdeal's founder did mention that it was already over $1 Billion, even before SoftBank's investment. Now, A Times of India report has pegged the valuation at somewhere near $3 Billion, speculating a 20-25% stake of SoftBank.
---