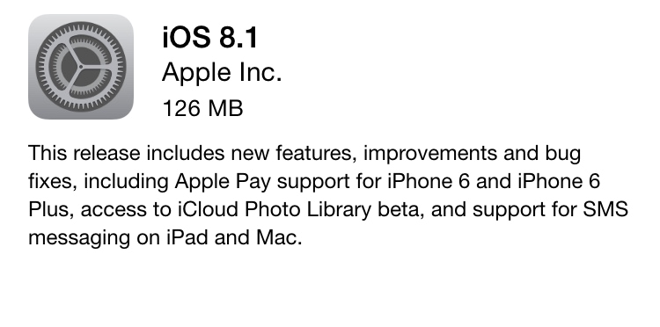 iOS 8.1 is now available to download under the Software Update section of native Settings app on an iPhone, iPad or iPod touch. The most anticipated feature, Apple Pay, is currently restricted to United States.
With iOS 8.1, Apple has brought back the camera roll features, something which user have been demanding, almost immediately after iOS 8 release. Apart from camera roll, changes to Photos include the new iCloud Photo Library, and an alert when running low on space before capturing Time Lapse photos. Also, My Photo Stream album is back, if the iCloud photo library is disabled.
In the messages section, the most important addition, is the introduction of SMS and MMS features. iPhone and iPad users can now send and receive SMS as well as MMS text messages from their iPad and Mac.
Apart from this, there have been several bug fixes in iOS 8.1, which remained in iOS 8.0.1 and iOS 8.0.2. Stay tuned as we bring a complete review of Apple's latest update to iOS8.
---