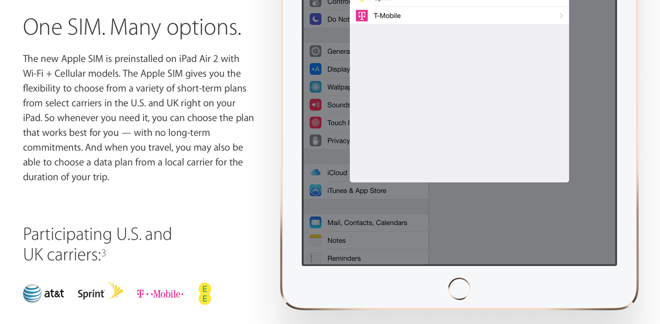 Apple today announced the two new iPads, and came along with them, a host of new features : iOS 8.1, Touch ID, faster Wi-fi and an A8x chip. But what Apple did not announce, is the ability of the new iPads to run two carriers on the same device, anywhere on the globe i.e. Apple SIM.
The new feature, called the Apple SIM, works similar to the traditional SIM hardware. What's different is, that Apple SIM registers your number with different Apple carrier partners, so you do not have to change SIMs, while switching from one network to the other.
This helps greatly, when you travel fro one country to another. In general scenarios, you will have to change SIM, according to your visiting country. But with Apple SIM, your iPad will automatically detect the relevant carrier partner, of your home cellular network and will hence switch you to that network. This saves customers, from the tedious task of changing SIMs again and again.
Currently, only AT&T, Sprint, and T-Mobile in the U.S. and EE in the U.K. have signed on. Apple does hint that more may be available in the future, however.
As per Apple,
Apple SIM gives you the flexibility to choose from a variety of short-term plans from select carriers in the U.S. and UK right on your iPad.
IMAGE : 9TO5MAC
---