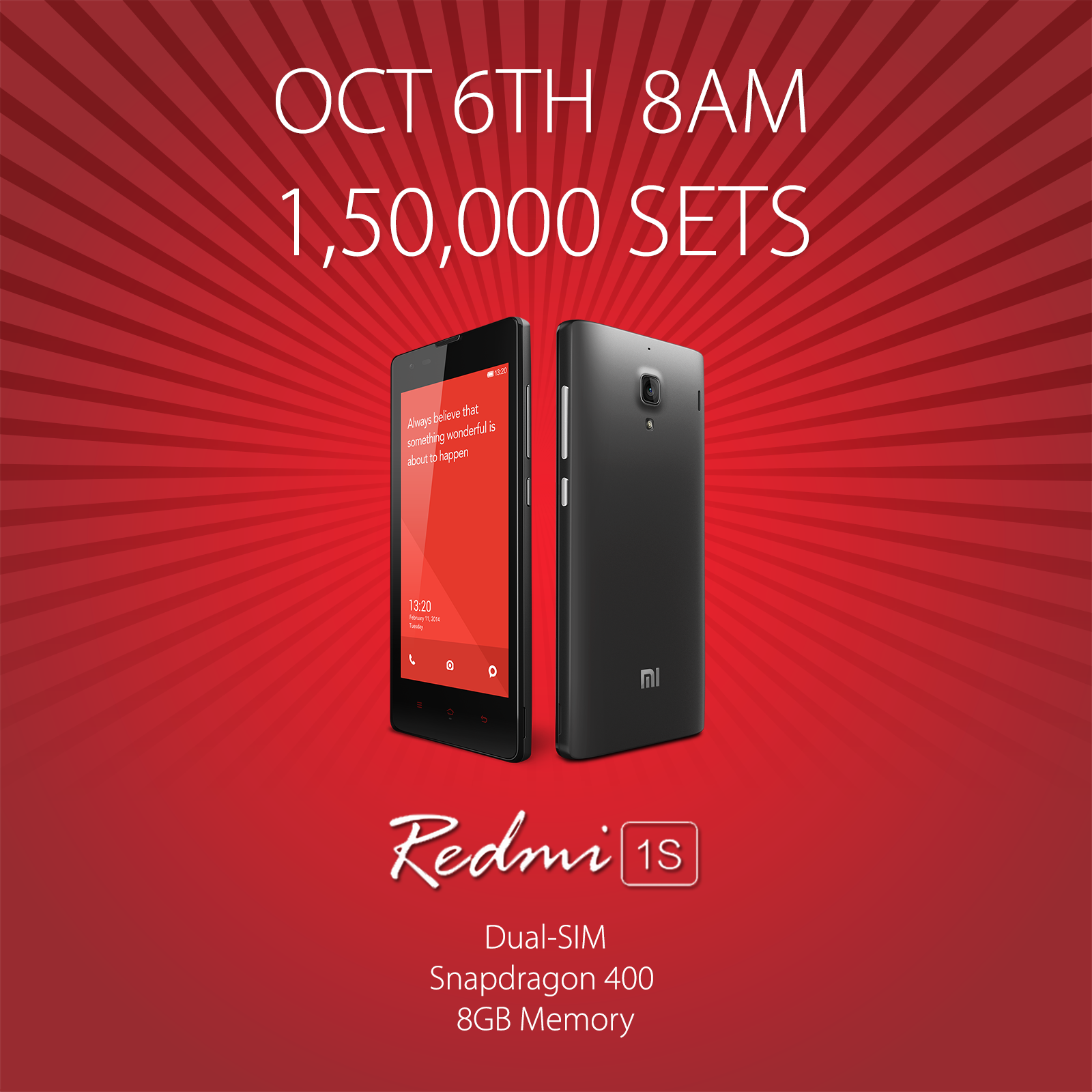 It looks like Xiaomi has finally given ears to customers' repeated frustrations. This is evident from the announcement, which MiIndia just made on Facebook. The post says that 1,50,000 Redmi1S units will be sold tomorrow, starting 8 A.M.
Flipkart has chosen just the right time for its #BigBillionDay sale. Apart from the right timing, it has also chosen exactly the right ingredients, for this delicious dish, to be served to customers tomorrow. We say this, because on the Big Billion Day sale, Flipkart will also be selling a whopping 1,50,000 units of the hugely popular Redmi1S.
We earlier reported that some 25,000 last units of Mi3 will also be sold on October 6th, i.e. tomorrow. Combinig the two, some 1,75,000 Mi units will be up for grabs in tomorrow's sale, which starts at as early as 8 A.M. [IST].
In the Facebook Post, Xiaomi mentions,
Tomorrow, 1,50,000 sets of Redmi 1S will be available for all on flipkart.com Yes, you don't have to register to go RED, don't miss it! To all existing Mi phone owners, we have a giveaway for you. Share this post/tag a friend (to inform them about the sale) & post a picture of you & your Mi phone in the comment box below. 5 winners will be selected at random to win Mi-In Ear Headphones + Mi Bunny. This runs till October 6, 2014 07.29 a.m.
Xiaomi's both Mi models, the Mi3 and Redmi1S have been hugely popular in India, ever since the first flash sale. The popularity has been due to superior hardware being provided at extremely rock-bottom prices. Xiaomi has virtually handed every Indian smartphone user, a SnapDragon processor, which wasn't the case earlier.
But it received equally large amounts of customer frustration and criticism for its extremely limited stock. But, since now Xiaomi has announced the huge number of Mi phones up for sale tomorrow, potential buyers will finally be able to grab their favourite Mi device.
Drop in a comment below, to let us know what you are going to do with your Mi.
---