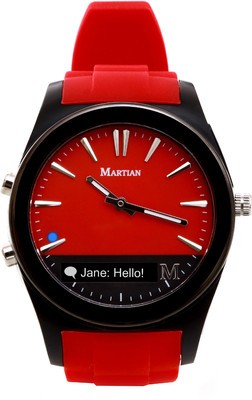 U.S. fashionable smartphone maker Martian, has today launched its "Notifier" smartwatch in India, through an exclusive partnership with Flipkart. The watch is priced at ⁕ 9,999.
Strikingly different from what Apple, Samsung and others offer you, the Notifier smartwatch is by and large, your regular analog watch. It has a small screen beneath the analog dial, that displays simple, clear notifications regarding your latest messages, incoming calls, weather, social accounts and more.
The smartwatch is compatible with iPhone 4S and above, fifth-generation iPod touch, iPad mini, iPad Air, and third-generation iPad.Not only this, the watch is also compatible with all Android smartphones running 2.33 Gingerbread and above.
This smart"watch" is a gadget to possess, largely because of the watch essence which it has. All of the smartwatches coming these days, however good they are, lag that very essence of an analog watch.
---