Microsoft's own streaming device has been long rumoured, but an FCC filing has now confirmed that Microsoft Mobile is indeed planning to take on the likes og ChromeCats and Apple TV.
As per the filing, which was first spotted by Windows Phone Daily, Microsoft is planning a new streaming device, which will make use of Microsoft's powerful yet less popular, Miracast feature.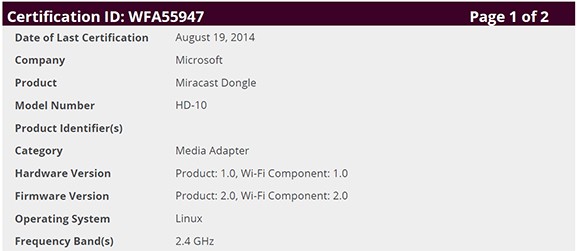 Windows Phone 8.1 has a feature called Project My Screen which lets you mirror whatever is on your phone display to a monitor, television, or projector through a wired or wireless connection. 
Now, to project it wirelessly, Microsoft uses Miracast technology, which is available in select projectors and TVs. Microsoft Mobile, may not be planning an exactly similar service like the ChromeCast, but an out-of-the-box device is on its way.
Expect Microsoft to reveal some details at its September 4 launch event.
---