Well, it looks like Xiaomi is sending sensitive information from your phone to its China based servers. F-secure, has reportedly tested "behaviour" of Xiaomi's RedMi1S and found suspicious results.
The screenshot which the website has posted is shown below :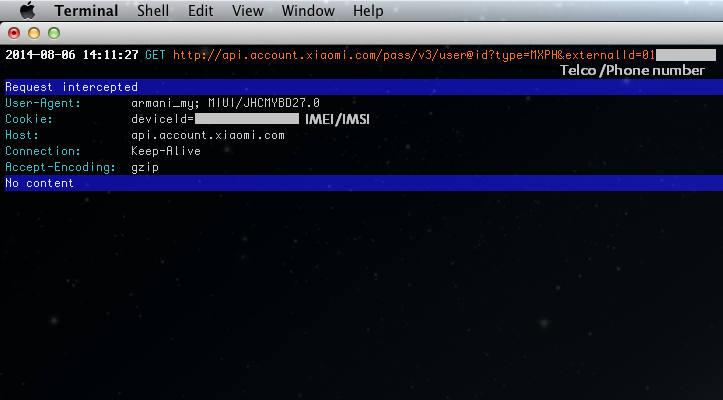 As per the test results by F-secure, here's what they have to say :
We saw that on startup, the phone sent the telco name to the server api.account.xiaomi.com. It also sent IMEI and phone number to the same server
Further in the tests, it was also noted that the phone number of contacts added to the phone book and from SMS messages received was also forwarded.

Next the F-secure team connected to and logged into Mi Cloud, the iCloud-like service from Xiaomi. They repeated the same test steps as before. This time, the IMSI details were sent to api.account.xiaomi.com, as well as the IMEI and phone number.
Xiaomi has been selling its Mi3 phones in India like hotcakes, with a total of almost 40,000 units being sold off in 40 minutes. But lately, Xiaomi has been in some serious controversy over this alleged breach of user privacy. If these tests are any proof, then you better think twice before buying a Xiaomi phone.
---