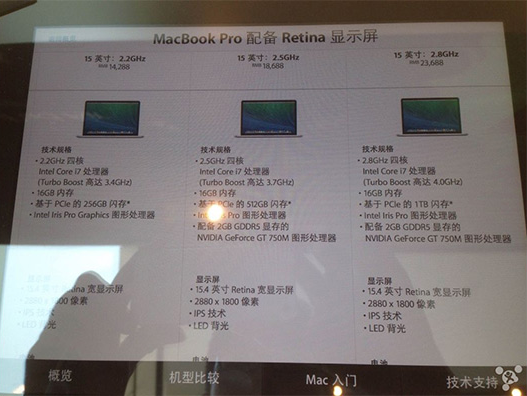 Apple's recently opened Paradise Walk outlet in Chongqing has reportedly pasted a signage on its windows, which clearly leaks the specification of Apple's upcoming MacBook Pro models.
If the signage (in the pic above) is to be believed, then Apple has done some serious revamping with MacBooks, giving them huge bursts of speeds in different models. 
For example, the cheapest MacBook version, will be powered by a Intel i7 processor, running at 2.2 GHz. The turbo boost in this model, will provide an andrenaline rush of 3.4 Ghz ! Similarly, the next model iwill supposedly clock 2.7 GHz, with a Turbo boost capacity of 3.7 Ghz. 
The most expensive upcoming MacBook, will give you s staggering 2.8 Ghz of speed burst, with the turbo boost, clocking a nerve wrecking, 4.0 GHz of clock speed.
Another major upgrade in these next generation MacBooks is that 16 Gb of RAM  is standard across all models, no matter, which model you buy.
The top model, seems to be a full blown power machine, with a 2.8 GHZ Intel i7 processor ( turbo boost of upto 4.0 Ghz ). Graphics are powered by the high performance Nvidia GeForce GT 750M. This model will come up with Apple's trademark, 1 Tera Byte of Solid State Drive (SSD).
As far as price is concerned, these MacBooks start with a price tag of 14,288 yuan ( ₹ 1,39,000 approx ). The 2nd and 3rd model will cost you 18,688 yuan ( ₹ 1,82,000 approx ) and 23,688 yuan ( ₹ 2,30,000 approx ) respectively.
---