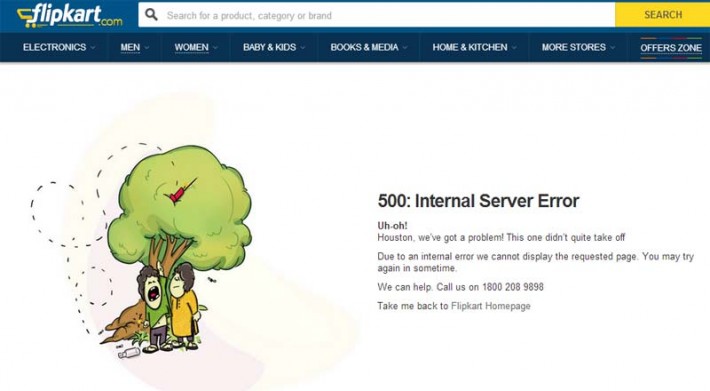 We all had expected that Xiaomi's nuclear weapon, the Mi3 is going to bring a storm into the Indian smartphone market, but we never really expected the storm to have such catastrophic and mind-boggling consequences.
The biggest of the consequences ? Flipkart's website crashed ! Yes. Due to the unmatchable demand of Mi3 (which should have been expected by Flipkart too ), Flipkart's website crashed, though momentarily. The website displayed a 500 internal server error as Flipkart issued an apology on its Facebook page.
Due to the crash, many customers have complained that amounts were deducted from their accounts and they haven't received a confirmation yet.
In an apology note, Flipkart says :
Many customers went on to lash Flipkart, with one of them saying : "You couldn't handle the pressure it seems  should have been expected by number of registrations. It was crashing on every stage with weird errors giving no clue if its available or not. IRCTC tatkaal is also smoother "
Another major, though expected consequence of the Mi3 launch was that the phone went out of stock, as soon as it got launched. Many customers, whose money got deducted, may well not receive the phone ! This is because, Flipkart introduced a pre-ordering process, which backfired to the extent that it became impossible to provide so many handsets. Here's a screenshot from Flipkart, for the Mi3 phone page :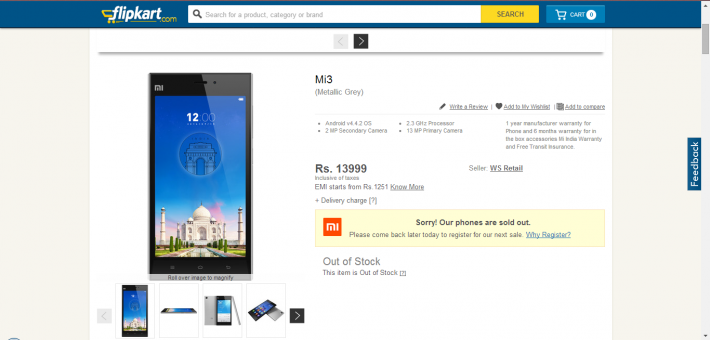 ---