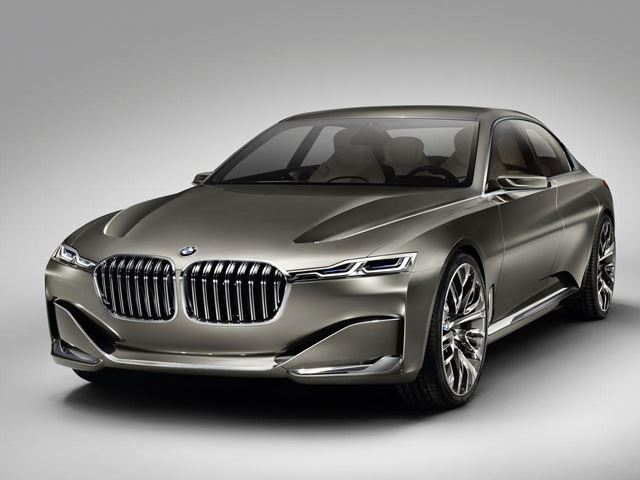 This is BMW's current thinking for a future flagship 9 Series or may just well be the new 7-series, that has a swag to shame an Aston-Martin. It's a concept, well obviously, looking at the current outgoing models from the German carmaker. 
But, BMW said it would unveil it at the Beijing Motor Show and true to its word, it has been revealed showcasing an ultra-luxury sedan better suited to take on the Phantom S-II, Bentley Flying spur or the Airbus A380 than the 7-Series, A8 and S-class. With a Liquid Platinum Bronze exterior (LPB), the four-door coupe-sedan concept sports a massive twin kidney grille, thin headlights using BMW's Laser-light technology, and carbon-fiber air deflectors.
The stylish concept also boasts super slim OLED taillights, chrome trim and BMW's Air Breather system located behind the front wheels that extends along the bottom section of the doors. The "Luxury" part of the concept is most evident in the cabin, which blends carbon fabric, aluminum, wood and aniline leather in a layered design which is even further complemented by exposed carbon fiber.
If even this doesn't catch your attention, BMW has put a wraparound instrument cluster consisting of three intermeshing displays using 3D technology: a programmable speedo and rev counter in the middle, vehicle-related info on the left and an infotainment display on the right.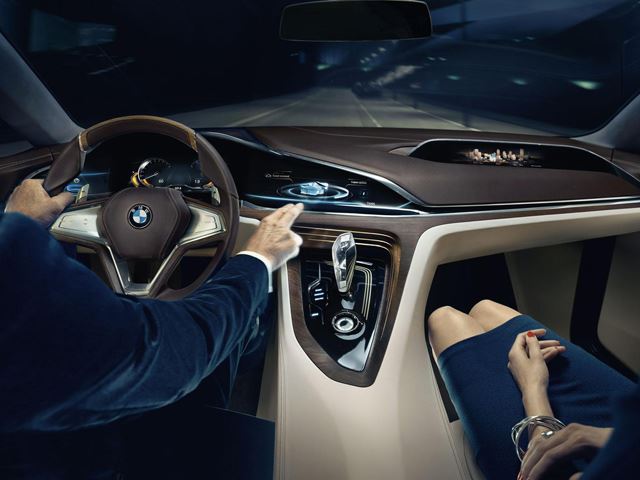 There's also some new next-gen interior tech for BMW fans to get excited about. A new head-up display projects information onto the road, directing drivers' attention to hazards, traffic signs, or certain buildings. Along with a couple of seat-mounted displays rear occupants get a Touch Command Tablet to play with, enabling them to access BMW's Luxury Concierge Service, as well as online entertainment and trip information.
Although it feels like Jaguar designers stepped in to turn on some loud music for the BMW people to make cars not just for office or school going, it is purely a BMW heading to command and conquer their new passion. BMW is unlikely to transform the concept directly into a production car, but it does offer some insight into where the company is heading.
---