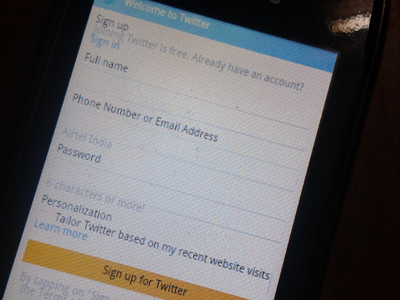 Twitter has finally announced that it will be rolling out the "in-browser notification" feature on its website. Though we have been seeing a bit of testing going on with random users experiencing this feature on their account, now this update will be rolled out for all the users, in a few weeks.
Announcing this feature on its blog, Michael Ducker, Senior Product Manager, said, "When it comes to your interactions on Twitter, it should be easy for you to stay connected to what's relevant. With this in mind, we're bringing you real-time notifications on twitter.com when someone is engaging with your Tweets".
He further explained the feature, "When you're logged in on twitter.com, you will receive notifications if someone has replied, favorited or retweeted one of your Tweets. You can also receive notifications for direct messages and new followers. They're fully interactive, so that you can reply, favorite, retweet, and follow right from the notification. We'll be rolling this feature out over the coming weeks".
To enable this feature, user needs to go to the Settings tab on twitter.com. That's where one can choose what types of notifications he/she wants to get on twitter.com and via email and mobile. If you use a Twitter app, check out your settings there too, so you can refine the types of push notifications you receive.
Twitter had reached 241 million monthly users in the last quarter of the year 2013, up by just 3.8% over the previous quarter. There has been a decline in the user base which grew at 10% in the beginning of 2013.
Since the company's 75 percent of the revenue comes from mobile, Twitter is now encouraging users to get its mobile app to combat the slump. The company, in order to woo new users, recently changed the looks of its website with entire new user interface and features.
Related articles across the web