Technology analysis and research firm Canalys has published its latest report on global smart speaker shipments. And while Amazon continues to lead as expected, it is surprisingly China's Baidu that has taken the second spot. Baidu has gained the spot by dethroning Google. Google now stands third.
Why surprising you ask ? Well, while both Amazon and Google serve markets outside of their home market — the US –, Baidu serves only in the Chinese mainland.
In terms of numbers, Amazon maintained the worldwide lead by shipping 6.6 million units of Echo smart speakers. Baidu, despite only serving the China market, grew 3700% to reach 4.5 million units in Q2 2019, after it reentered the market with Xiaodu devices in Q2 of last year. Baidu became the second largest vendor and overtook Google which shipped 4.3 million in the same quarter. China's smart speaker market performance outshone others as the country doubled its quarterly shipment size to 12.6 million units, more than twice as large as the US market which stands at 6.1 million units.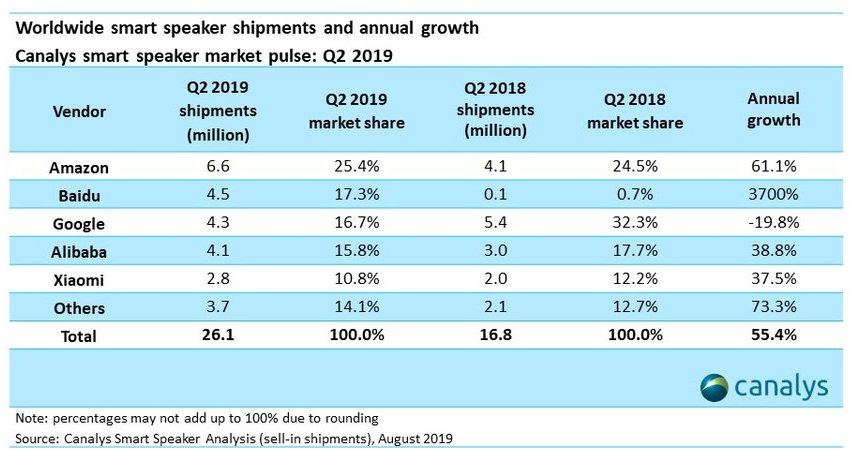 The US market showed slight weakness, declining 2.4% with a total of 6.1 million units shipped. "Amazon and Google are focused on growing their business outside the US," said Canalys Senior Analyst Jason Low. "Google's transition to the Nest branding while pivoting to smart displays proved to be a challenge, especially as it has begun rolling out its Nest Hub smart display globally. Google urgently requires a revamped non-display smart speaker portfolio to rekindle consumer interest, as well as a robust marketing strategy to build its Nest branding outside of the US."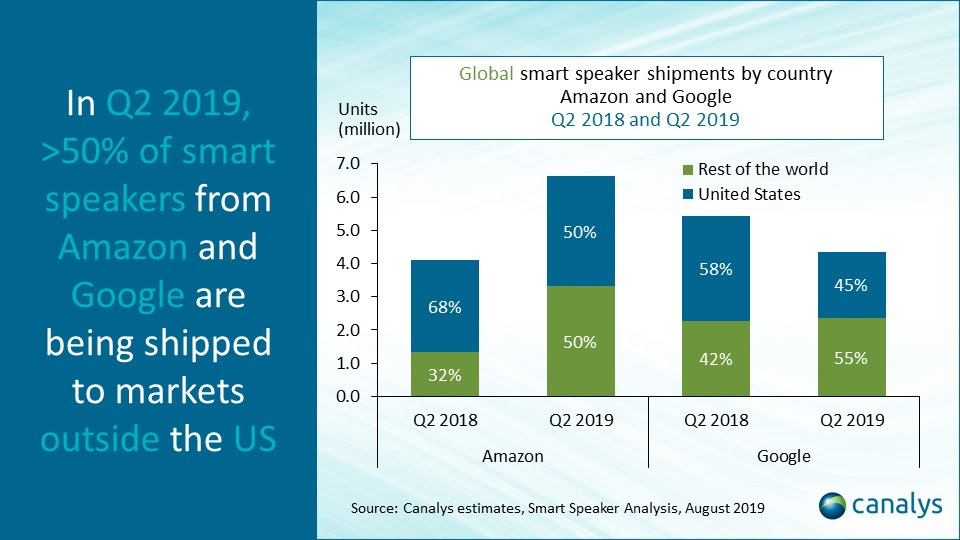 Now, while Baidu replacing Google is a feat in itself, it wouldn't bring much changes in terms of sales to either of the companies. This is largely because both companies operate in mutually exclusive markets. "Aggressive marketing and go-to-market campaigns built strong momentum for Baidu in China. The vendor stood out as a key driver of smart displays, to achieve 45% smart display product mix in its Q2 shipments," said Canalys Research Analyst Cynthia Chen. "Local network operator's interests on the device category soared recently. This bodes well for Baidu as it faces little competition in the smart display category, allowing the company to dominate in the operator channel."