In what will mark a major tech milestone for India's rapidly expanding food delivery industry, Zomato has announced a successful test for its proprietary food delivery drone. This test is a result of the TechEagle acquisition that the company concluded recently.
The drone used in this non commercial test was a hybrid drone – fusion of rotary wing and fixed wings on a single drone. The company announced that all of its set parameters were met. The drone was able to cover a distance of 5kms, in about 10 minutes, with a peak speed of 80 kmph, carrying a payload of 5 kgs.
Zomato's plans to power its deliveries via drones haven't been a secret. The company has been one of the early movers in the space, not just within India, but globally. Speculations, which were doing the rounds for a couple of years, proved true when Zomato announced acquisition of a rather young drone building startup – TechEagle.
The Drone Delivery Process
Its fairly simple. A drone will pick up the food package from a restaurant hub (a dispatch station around a cluster of restaurants), and drop the package at a customer hub (a landing station close to dense communities), and come back to the dispatch site using a mix of different and appropriate flight modes.
In terms of safety, Zomato claims that it has been the company's "top priority" and its drone is loaded with multitude of sensors to take care of the same. This assumes great significance, since India is one of the very few countries globally, looking to come up with a commercial drone policy. Zomato needs to ensure it does not face a roadblock, specially since safety is Government's top priority.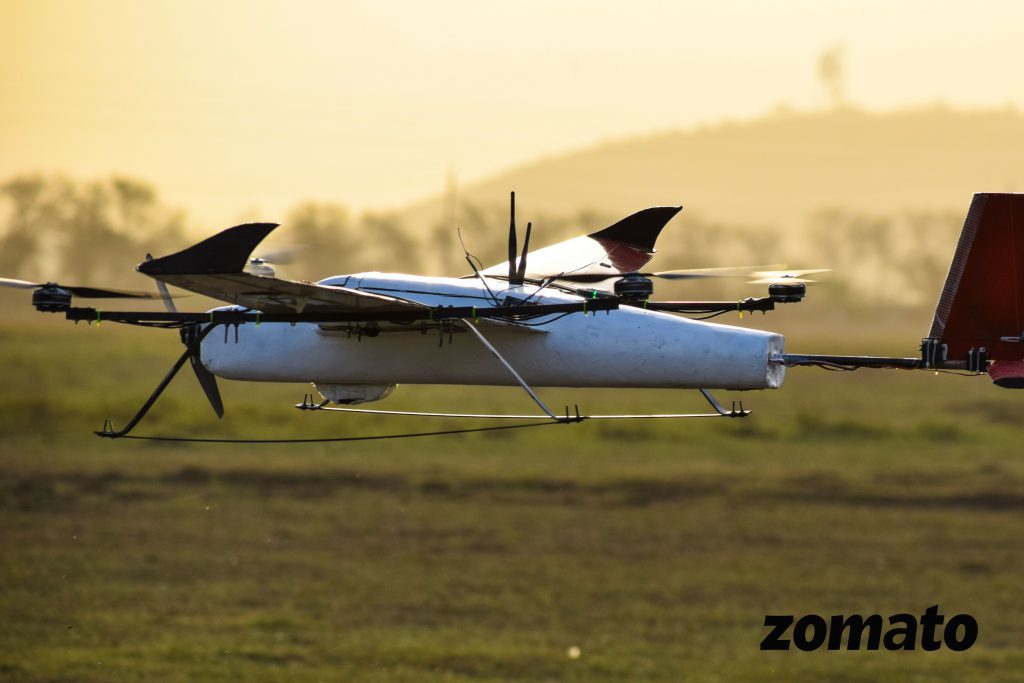 In terms of compliance with India's civil aviation watch dog, Zomato has mentioned that is already in touch with the concerned. As per the notification issued by Director General of Civil Aviation (DGCA) on 13 May 2019, interested organisations have been asked to submit an Expression of Interest (EOI) to the DGCA for conducting experimental Beyond Visual Line of Sight operations (BVLOS) of Remotely Piloted Aircraft Systems (RPAS)/Unmanned Aircraft Systems (UAS). In response to the notification, Zomato is forming a consortium as per DGCA's guidelines to carry out experimental BVLOS operations.