Bing, the search engine from Microsoft, has rolled out a new feature which allows users to search and look for the doctor through the search engine. Further, it also enables users to book an appointment, thanks to Practo's integration.
For this, the company has partnered with and integrated Practo, an Indian startup working in the healthcare technology space. It connects users to everything that they need to take good care of themselves and their families, assessing health issues, finding the right doctor, managing records securely, and finding new ways to live a longer healthier life.
Looking for Pocket Morty  recipes? Here we have publish a full guide of Pocket Morty
With this integration, users will be able to search and access details of doctors across 38 different cities in 10 regional languages including Hindi, Telugu, and Bengali. It will enable Bing users to not just search for the best of doctors in town but also book their doctor appointments online, consult online with doctors, order medicines and lab tests, store health records and even read health articles written by these doctors.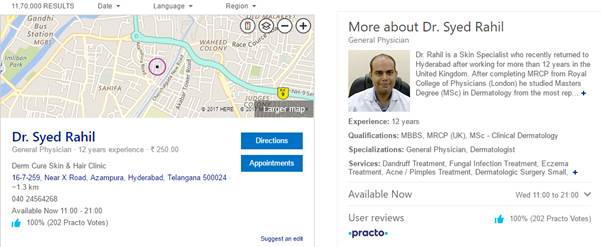 Bing users searching for doctors in their city can view profiles of doctors along with their qualifications, experience, specializations, and availability. The feature also enables individuals to view feedback and recommendations by the patients, thus, assisting users to select the ideal doctor nearby, at their convenience in their city.
Also have a look on Cartoon HD apk which tremendously growing these days
Practo was founded in 2008 by Shashank ND and Abhinav Lal. Till now, the company has raised close to $180 million in around four funding from 11 investors, including Altimeter Capital, Sequoia Capital, Matrix Partners, among others.
The company has also made five acquisitions so far, which include Fitho, Genii Technologies, Qikwell Technologies, Instahealth, and Enlightiks.