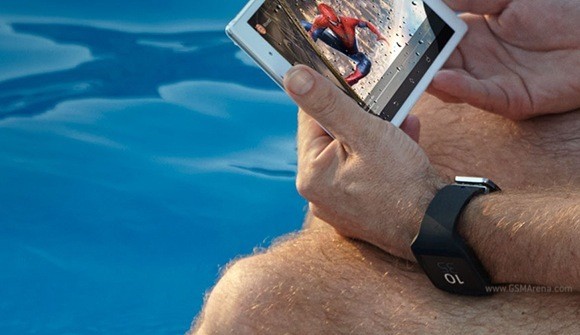 IFA is going to be an exciting event with all the the devices and products believed to be uneveiled from Samsung, Motorola,ASUS,LG and Sony. Sony is all set to launch the Xperia Z3 and Z3 compact. However, it looks like the Japanese multinational conglomerate is preparing to release a few other devices which includes a tablet and a smartwatch.
In a picture accidentally posted on the company's Facebook page, Sony shows off a small, white pill and a black smartwatch. Neither gadget appears like any Sony product that may have been introduced up till now, however there's no point out on Sony's web page of what they may be.
The image is shown by a poolside so it might be possible that Sony will continue its trend of making the Xperia series as waterproofing and the smartwatch might also be resistant to water.
As for the design, this tablet is quite iPad-mini-esque, as far as the first glance is concerned. We'll have to wait and watch what this tablet comes with.
Sony is not revealing any information about the devices pictured in the promo photo, but it clearly wants to increase speculation. Plus, when IFA 2014 takes place, we should find out more about the rumored tablet and smartwatch.
---