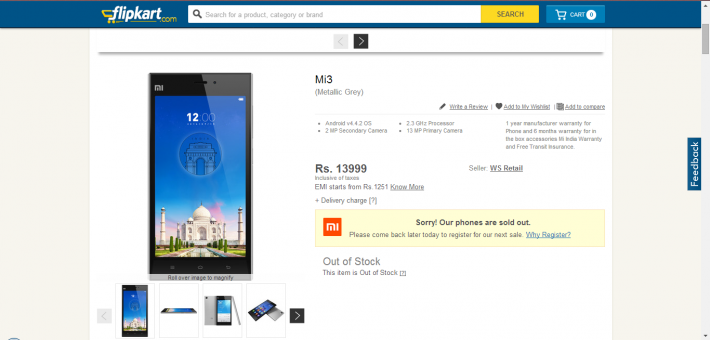 Xiaomi's Mi3 has been the talk of the town these days, both for positive and negative reasons. While it had positive reviews earlier when it was launched, reviews have been largely negative, since the truth about the actual no. of handsets available for sale was revealed.
The Mi3, goes for sale in India, again, from today. Yet again, it will be available, exclusively through its retail partner, Flipkart. The registration process for today's sale has already closed, and the next set of registrations will begin from 6 P.M. (IST) today.
But, this very marketing stunt, which Xiaomi pulled off in its home country China, backfired here, in India.
Almost a week ago, when Flipkart opened up registrations for Xiaomi's Mi3, it suffered the worst crash ( and a facepalm ) in India's highly competitive e-commerce industry. The crash clearly revealed Flipkart's ill-prepared infrastructure, and that, it is still not ready, to take on the likes of Amazon.
As a result of Xiaomi's disruptive business model, Flipkart lost quite a few of its loyal customers, and Xioami, well, it didn't make any. Flipkart's customers, who had pre-registered for the Mi3, vented out there frustration, in a way, which Flipkart isn't usually habitual of.
This reaction by the usually loyal customers, further aggravated, when the news about the actual availability of Xiaomi's Mi3 handset was revealed. Tech Portal had earlier reported, that less than 10,000 models of Mi3 were available with Flipkart, for the over 1,00,000 registrations which it received.
Although Flipkart and Xioami did promise, that those who couldn't get hands on a model and registered with Flipkart, will be prioritised over new registrations, this promise couldn't inspire much confidence among the customers.
Nevertheless, Mi3 will be back on sale from today, and if you haven't been able to get one, you can register on Flipkart. But we hope, that Flipkart would have surely learnt a lesson as to whether it should fall trap to a disruptive marketing model like Xiaomi, or stick to something like Motorola.
A lot of Flipkart board meetings must be doing the rounds now, lets hope for a fruitful outcome.
---