Global PC shipments have fallen in the first quarter of the year.
According to a report by Canalys, the global PC market witnessed a drop of 33% in the total shipments of desktops and notebooks for the first quarter of the year, marking the fourth consecutive quarter of double-digit annual declines. Canalys puts the total shipments for the quarter at 54 million units, while a similar report by IDC claims that the total shipments came to 56.9 million (marking a drop of 29% from the corresponding quarter in 2022).
The winter holiday quarter (Q4 2022) saw a weak performance of the demand for PCs, and this drop in shipments continues the trend that surfaced after the first two years of the pandemic. That period saw an increase in the demand for desktops and notebooks (which was spurred on by the unprecedented shift to remote working and remote learning).
"Most of the issues that plagued the industry in the second half of last year have extended into the start of 2023. Channel partners have indicated that their inventory levels have been reducing but remain high in absolute terms. 39% of partners surveyed by Canalys in January 2023 reported having more than five weeks of PC inventory, with 18% reporting nine weeks or more. Meanwhile, demand across all customer segments remains dampened, with more pressure arising from further interest rate increases in the US, Europe, and other markets, where reducing inflation is a top priority," said Ishan Dutt, Senior Analyst at Canalys.
"Consumers and businesses will remain cautious about outlays on new PCs in the short term, with significant market recovery only expected to kick in during the fourth quarter of 2023. The PC market has strong fundamentals to drive long-term growth, with shipment volumes higher than in the pre-pandemic era. A much larger installed base post-COVID-19, the transition to Windows 11, and both refresh and new demand from digital education will all be key drivers as the global economy enters a period of recovery in 2024 and beyond," he added.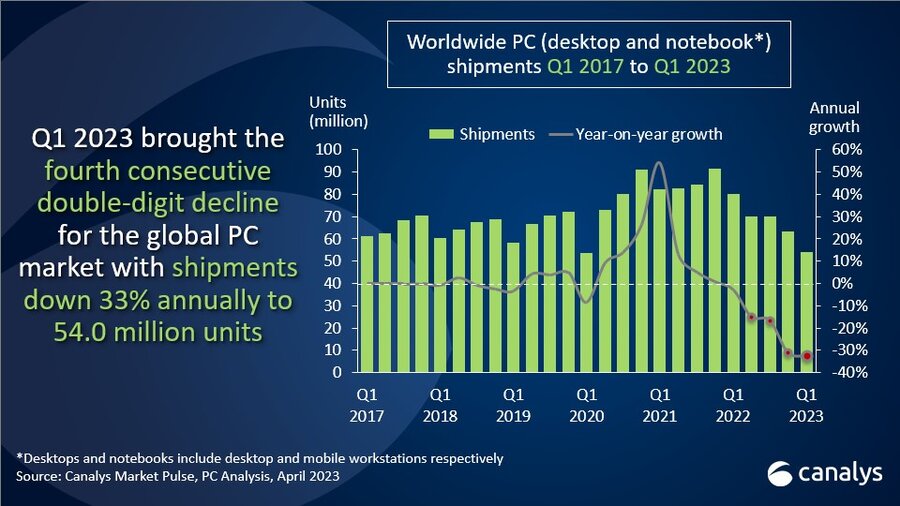 Looking at the performance of products, we find that notebook shipments dropped by 34% annually to 41.8 million units, while shipments of desktops dropped by 28% to 12.1 million units. Company-wise, the biggest drop in PC shipments was clocked by Cupertino-headquartered Apple (45.5%), whose total shipments amounted to 4 million units. Lenovo tops the chart with a market share of 23.6%, an annual drop of 30%, and a total shipment of 12.7 million units. Next comes HP with a market share of 22%, whose shipments dropped by 24% to 12 million units.
Dell comes next with a total of 9.5 million units (a drop of 31%) and a market share of 17.6%. Asus comes last with 3.9 million units, a market share of 7.3%, and an annual fall of 29% in shipments for Q1 2023. "Though channel inventory has depleted in the last few months, it's still well above the healthy four-to-six-week range," said Jitesh Ubran, research manager for IDC's Mobility and Consumer Device Trackers. "Even with heavy discounting, channels, and PC makers can expect elevated inventory to persist into the middle of the year and potentially into the third quarter."